Kentucky is at a Crossroads...
Our hard-working families cannot afford to revert back to the stale, liberal policies that have left our state behind. We must move forward and continue to advocate for strong, conservative policies that will attract industry to our state, create jobs, and secure a promising future for all Kentuckians. As a lifelong Kentuckian and sixth-generation Grant Countian, I have a vested interest in working to ensure that the 61st district, and our Commonwealth, are on the path to prosperity.

From the time I was elected, I have sought to serve Kentuckians by being openly accessible and continually engaged in developing solutions for the issues that impact our communities. I have dedicated my time in Frankfort to being your steadfast voice, and I am working hard to ensure that your voice is heard loud and clear concerning the pivotal issues we are facing in the Commonwealth. I began this journey with the hope of restoring a tone of civility and statesmanship to the legislative process, and I continue to strive to be the dependable servant-leader you can rely on.

If you don't yet know me personally, please feel free to reach out through my website, e-mail, Facebook or Twitter. I'm happy to connect!

Thank You and God Bless,

Savannah Maddox

News
Sunday, January 10, 2021 12:00 AM
Rep. Maddox addresses SB1: Emergency Powers Reform
On Saturday, I had an opportunity to deliver a floor speech outlining the critical need to restore an appropriate balance of power among coequal branches of government in the Commonwealth. For greater than nine months, Kentuckians have been subjected to unilateral decision making on behalf of the executive branch, which has resulted in an overwhelming demand for reform to Emergency Powers statutes in KRS 39A. I am very pleased to report that SB 1 has been passed out of both chambers and is awaiting the Governor's signature (well, veto). In accordance with Section 88 of the Kentucky Constitution, the Governor has 10 days to veto a bill or it becomes law without his signature. The General Assembly will have the ability to override his probable veto when we return at the beginning of February.
---
Saturday, January 9, 2021 10:00 PM
Update on SB 1: Emergency Powers Reform

As promised, I would like to provide an update on SB 1, the Emergency Powers Reform bill that we passed out of the House today. Here is what the bill does:
-Removes the ability of any Governor to change "the manner" in which our elections take place, i.e. mail-in voting. (As we all know, the advent of mail-in voting was quite problematic across the country, in the last election. I am glad that Kentucky is being proactive about returning to in-person elections, even in a state of emergency).
-Limits executive orders, administrative regulations, and other directives to 30 days, until which time the General Assembly must be called back into Session in the event that the order places restrictions on:
*Schools/universities
*Private businesses or non-profit organizations
*Political, religious, or social gatherings
*Places of worship
-All other executive orders issued under KRS 39A may only exceed 30 days if requested by the Judge Executive/Fiscal Court of a county, or Mayor/City Council in a city. These orders (if extended) would only apply to that local government, and could be extended or terminated by written request.
-Includes language preventing any Governor from circumventing these time limitations, by disallowing the declaration of a state of emergency or issuance of an executive order upon the same or substantially similar set of facts or circumstances without the approval of the General Assembly.
-Allows the General Assembly, by joint resolution to terminate a declaration of emergency at any time.
Although this currently only applies when the General Assembly is in Regular Session, it would allow us to take immediate action in the event that a constitutional amendment allowing the General Assembly to call itself back into Session is passed.
-Waives immunity under the 11th Amendment, so that citizens can seek declaratory relief in federal court.
-Requires any Governor to report all expenditures relating to contracts issued during an emergency; All federal dollars that are received due to an emergency must also be reported, as well as how they are spent or planned to be spent.
-Allows the Governor to suspend a statute only if the suspension is approved by the Attorney General, in writing.
-Removes the Class A misdemeanor penalty, and replaces it with a fine of $100 for a first offense, and $250 for each subsequent offense.

I filed three amendments to SB1 based on the language of BR 130, as well as language crafted by the House Emergency Powers Working Group. The intent was to provide additional protections for Kentucky's businesses, as well as safeguard language for 1st Amendment rights, property rights, and consumption of goods. Moreover, I offered language to prevent certain statutes from being suspended, and to reduce the 30 day limitation to 15 days. I am pleased to report that House Floor Amendment 1 passed, which adds the following protections:
-Protects the right of the people to exercise free speech, freedom of the press, to petition their government for redress of injuries, or to peaceably assemble.
-Protects the right of the people to worship, worship in-person, or to act or refuse to act in a manner motivated by a sincerely held religious belief.
-Additional restrictions on a Governor's ability to seize, take, or condemn, property; Requires that compensation be provided with value being determined by pre-existing eminent domain statutes; Stipulates that this can only be done for the duration of the emergency, and only for public use.
-Restricts any Governor's ability to limit the sale or consumption of goods, only in the event of a shortage of goods.
-Disallows any Governor from suspending certain statutes that should never be suspended; Constitutional Carry, the Kentucky Religious Freedom Restoration Act, and all statutes that protect unborn life in the Commonwealth.

In addition, House Floor Amendment 4 (offered by Rep. James Tipton, who carried SB 1 in the House) ensures that local governments are included in the definition that pertains to the 30 day limitation. Both Rep. Tipton and Primary Sponsor Sen. Matt Castlen did a fantastic job of articulating and defending this pivotal piece of legislation in their respective chambers.

Although I, and several of my colleagues would have preferred a 15 day limitation, I am pleased that Kentucky is no longer 1 of only 3 states that have no limitations on emergency powers (and also have legislatures that cannot call themselves into Session). SB 1 is a landmark piece of legislation which ensures that Kentuckians will never again be subject to an indefinite, 10 month long state of emergency. Never again will Kentucky's businesses and citizens be subject to the repercussions of unilateral decision-making, or be left without a voice during a state of emergency.
---
Saturday, December 19, 2020 1:02 PM
Rep. Maddox 2021-2022 Committee Assignments
---
Tuesday, August 11, 2020 5:33 PM
Are you fed up with Governor Beshear's Executive Overreach?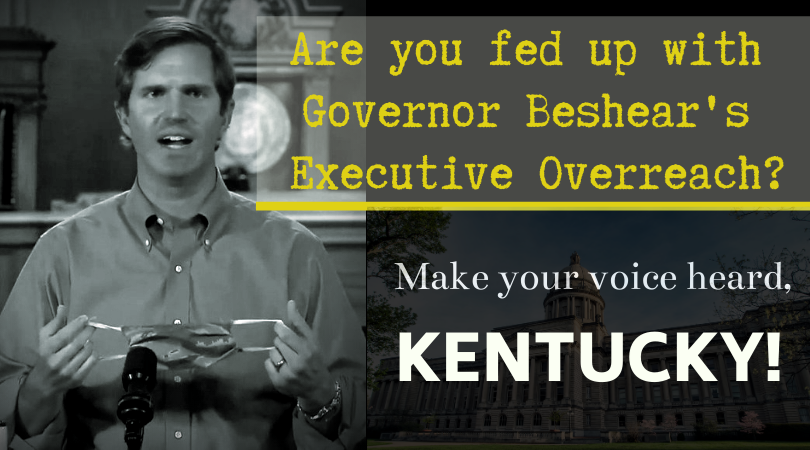 View BR 130- REVISED
Locate your state representative and ask them to co-sponsor BR 130

Over the course of the past nine months, Kentuckians have become quite familiar with a statute that many had previously never heard of, KRS 39A.100. Governor Beshear's abuse of this particular statute has resulted in:

-Over 1.3 million Kentuckians filing for unemployment (62% of the entire workforce), many of whom have yet to receive a dime of unemployment benefits in exchange for the wages they were forced to forego.

-Persons of faith being denied the ability to attend religious services in accordance with their 1st Amendment right to religious freedom.

-Countless numbers of Kentucky's businesses that will never again open their doors and 287,000 jobs that will cease to exist.

-The suppression of the right to assemble, and freedom of speech by restricting access to the People's Capitol in Frankfort.

-Interstate travel bans, restricting the rights of Kentuckians to move freely in and out of the Commonwealth.

-Infringement upon the right to privacy through the proliferation of contact tracing.

Subsequently, Governor Beshear has been challenged a number of times in court which has resulted in some of these executive orders issued under KRS 39A being overturned. It is for this reason, and for the protection of the basic civil liberties of all Kentuckians that I have pre-filed BR 130 to amend KRS 39A and related statutes.

Never again must we allow the majority of Kentucky's businesses to be shut down, resulting in the level of economic devastation that we are seeing unfold in the Commonwealth.

Never again must we allow the fundamental liberties and freedoms which are enshrined in the Bill of Rights to be suppressed under the weight of unilateral decrees issued on behalf of the executive branch.

So much of what we are seeing in terms of the Governor's actions is egregious overreach; Masks should be entirely voluntary, as should vaccination and contact tracing. The government should have no authority to force any of these things on its citizens. Moreover, any business that employs Kentuckians and enables them to put food on the table IS an essential business, and it is unconscionable to think of the economic devastation that the Governor has created through previous shutdowns. I will continue to be vocally opposed to any mandate or requirement issued by the Governor that violates our civil, individual, or religious liberties.

I have pre-filed BR 130 for the 2021 General Assembly Session which will amend KRS 39A in order to create a system of checks and balances among three coequal branches of government, to ensure that never again are the citizens of the Commonwealth left without a voice during a state of emergency. Specifically, it stipulates that the General Assembly must be called back into Session in the event that an emergency order surpasses a two week timeframe, and all emergency orders must be narrowly tailored so as not to unnecessarily burden or imperil Kentucky's businesses. If you're interested in learning more about it, you can read it in its entirety here:

---
Sunday, May 3, 2020 12:00 AM
Kentucky Freedom Rally